Communities
---
Brown Deer Real Estate and Homes For Sale
Real Estate Price Ranges
Single-Family Homes: $185,000 - $449,900
Condominiums: $50,000 - $99,900
County: Milwaukee County
Web Site: www.browndeerwi.org/

Village of Brown Deer
Census 2021 Population Count (estimate): 12,705
Brown Deer Real Estate

Brown Deer is a great community that is situated conveniently near a lot of shopping. The real estate in the area is quite varied. Here you can find modest starter homes all the way through to ones on the high end. While the village has a suburban feel, many of the streets also have sidewalks. It also has a few nice parks including the famous Brown Deer Golf Course which is home to the Greater Milwaukee Open.

Farmers from Granville, NY started moving into the area around 1835. Subsequently, the area was name Granville. However, by the 1880s, the local residents began calling the area Brown Deer and in 1953 it was incorporated under that name.

The majority of the housing stock in Brown Deer, Wisconsin was built after WWII. It is possible to find homes priced in the lower $100Ks to $400Ks. This range accommodates a range of lifestyles. Brown Deer mainly has single family homes and condominiums.

Getting downtown from Brown Deer is easy. One can usually get to downtown Milwaukee in about 15 minutes from Brown Deer.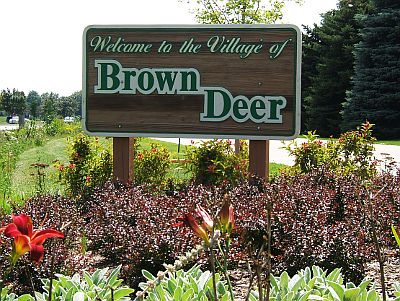 Brown Deer Real Estate For Sale - Single Family Homes

Price Range
Bedrooms
Price Range
Bedrooms
Under $200,000
2+
3+
4+
$300,000-$400,000
3+
4+
$200,000-$250,000
2+
3+
4+
$400,000-$600,000
3+
4+
$250,000-$300,000
2+
3+
4+
Over $600,000
3+
4+
Brown Deer Real Estate For Sale - Condos

Price Range
Bedrooms
Price Range
Bedrooms
Under $150,000
1+
2+
3+
Over $150,000
1+
2+
3+
This product uses the Census Bureau Data API but is not endorsed or certified by the Census Bureau.
Our site is designed to help you find the real estate you are looking for without having to dig through pages of properties. Here you can find executive style luxury homes, starter homes, condos of all shapes and sizes, big lots, small lots, two-family duplexes, multi-family investment properties and bank owned foreclosures.
Instead of having search functions for the whole State of Wisconsin, we have focused on our main areas of Milwaukee, Ozaukee, Waukesha, Washington, Racine, Kenosha and Walworth Counties. We presume you are here because you are searching for real estate in locations like Mequon, Milwaukee or Brookfield and not something across the state.
If you are looking for the right
real estate agent
to help you buy or sell a property, we encourage you to review our agents whom come from all areas around the metropolitan Milwaukee area. Our geographic diversity helps us connect you with a truly local professional.
At Milwaukee Executive Realty, we are serious about providing our buyers and sellers with the best experiences. To do so, we offer expertise in almost all areas of real estate from residential homes and condos to investment duplexes and multi-families to commercial properties.